Rockbusters' Blog Post
15/01/2018
Are you keeping your 2018 climbing resolutions?
FEATURED ARTICLE
Have you noticed how at the beginning of every New Year your local climbing gym gets extremely busy? Everybody's running around with a serious face, believing that somehow this year will change everything in their climbing, hell, maybe even in their life.
It's a trend seen not only in climbing gyms, but in all kind of fitness facilities. We don't even personally know anybody who'd admit to making New Year's resolutions, but if they weren't a thing, marketers around the world would break their heads on how to jump on the self-improvement bandwagon.
Climbers tend to be more sensible than the general public (well, maybe we're biased), but still many fall prey to the resolutions trap. And if you're one of them (we've been there too, it's fine), chances are your new, lofty goals will start to evade you before the end of this month.
So, instead of just giving up, swap unreasonable goals for sensible, down-to-earth resolutions that will actually benefit your wellbeing and climbing. Ask yourself what it is that you *really* want to change. Maybe you don't actually care about the next big tick? Maybe you just want to go climbing more?
If you are one of those motivated training machines (the likes of Patxi Usobiaga and his disciples), you don't need January 1st to start working toward your goals. You're already well on your way. But if you're still somewhat unsure about your ambitions for the upcoming months, here's a few suggestions:
Climb more outdoors
Whether it's at your local crag after work or over the weekend, or visiting the latest Spanish hotspot, just climb more outdoors. This is what you love and this is why you pull on plastic during the week. It might take a bit more effort (getting up early on a Saturday, or saving up for a longer trip), but it will be worth it. Memories are made on the rock, whether you tick your project or not.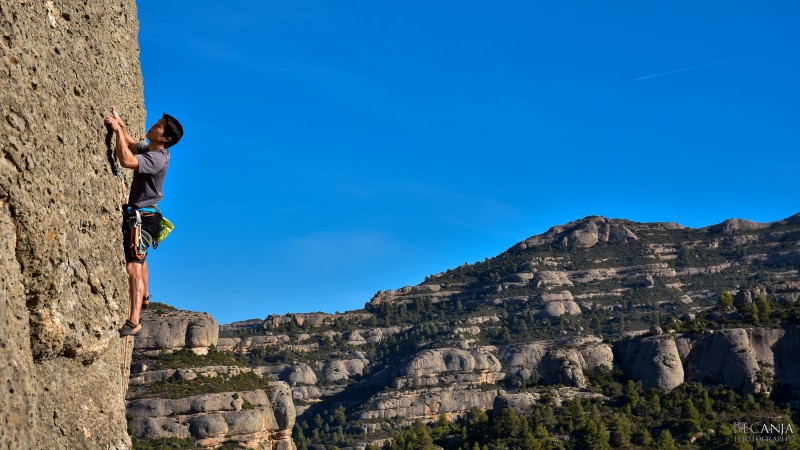 [image with credit to Anja Becan]
Improve just one aspect of your climbing
Choose one thing that would make the biggest impact on your climbing and work on it. It might be that you simply want to climb more. That's fine. But if beyond that you want to also climb better, maybe it's time to eat less sugars, focus on footwork, or improve finger strength? Maybe your weak knees don't allow you to heel hook?
If you don't want to follow a full blown training plan, focus on just one thing that limits your climbing and address it. It will hugely improve both your performance and enjoyment on the rock.
It won't even take much effort - add some technical drills at the beginning of every climbing session, find the time for two short fingerboarding workouts every week, or say no to the donuts at the office. Whatever it is, if you stick with it, you will notice a difference and feel so good for it!
Think about sustainability
Climbing can be hard on the body and every day physiotherapists like Pablo Scorza see people who suffer from numerous climbing related injuries. The older you get, the more time you should dedicate to injury prevention and tending to those existing niggles.
Invest in a foam roller, start stretching your forearms, do a little bit of stability work with a theraband. All professional climbers spend multiple hours every week just rehabbing and aiding recovery. You should do that too! It might be as simple as sleeping more, or drinking less booze. The more you take care of your body, the longer you will be able to enjoy climbing.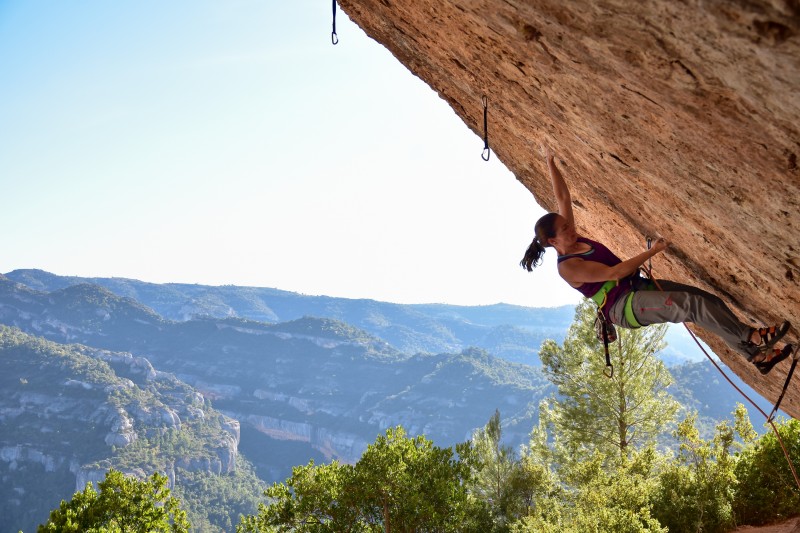 [image with credit to Anja Becan]
Are any of the above on your list? Let us know in comments! Our big New Year's resolution is to run an amazing climbing blog and, in the coming posts, we will deal in more detail with some of the issues mentioned above (improving technique, training, diets, and more). With an amazing bunch of people making up the Rockbusters team, we will have guest posts from pro climbers, coaches, physiotherapists and all round rockstars. We also can't wait to feature some of your stories, so hit us up if you'd like to publish a write-up from your latest trip, or just share any climbing related thoughts.